Welcome to Gumbet, the vibrant resort town known for its lively nightlife and energetic atmosphere. If you're looking to dance the night away and experience the pulsating beats of Gumbet's clubbing scene, you've come to the right place. In this blog post, we will explore the best nightclubs in Gumbet that promise unforgettable nights filled with music, dancing, and excitement. So, put on your dancing shoes and get ready to discover the hottest spots in town!
What to Expect?
If you want to party until the sunrise, you can enjoy the night at one of popular nightclubs of Gumbet. The nightlife in Gumbet makes the resort excel amongst Turkish holiday resorts, as when the sun sets, the resort is ignited in a sea of lasers and neon lights.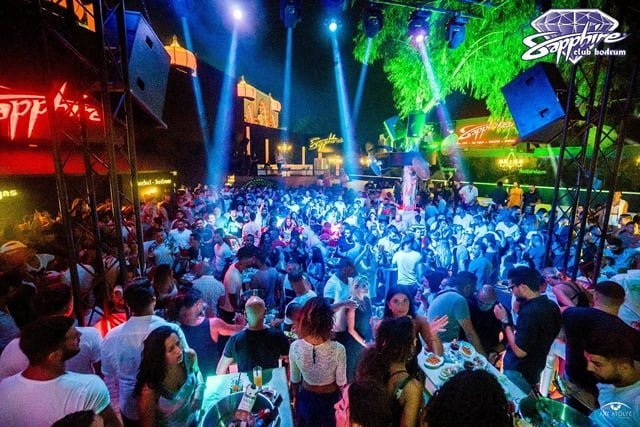 As for the Gumbet nightclubs, the most popular ones are B1-Be One Club, Club Posh Bodrum and Sapphire Night Club.
Clubs are always full and fantastic. They are open from 09.00 pm. till 05.00 am.
If you want to experience the other famous night clubs and discos in the Bodrum peninsula, than take a night out and visit the famous nightclubs in central Bodrum for sure.
Gumbet's Top Best Nightclubs & Discos
B1-Be One Club: Where Music and Style Collide
Prepare yourself for an electrifying experience at B1-Be One Club, one of Gumbet's premier nightlife destinations. This club effortlessly combines sophistication with an energetic ambiance, making it a favorite among locals and visitors alike.
Step onto the dance floor and let the music move you as talented DJs spin the latest tracks from a variety of genres. With its sleek design, state-of-the-art sound systems, and dazzling light displays, B1-Be One Club sets the stage for an unforgettable night of dancing and celebration.
Club Posh: Where Luxury and Entertainment Meet
For a taste of luxury and exclusivity, Club Posh is the place to be. This upscale nightclub offers an opulent setting, complete with lavish decor, VIP booths, and impeccable service.
Dance to the beats of renowned DJs as they create an electrifying atmosphere that keeps the crowd on their feet all night long. Whether you choose to mingle with the glamorous crowd, sip on signature cocktails, or simply enjoy the vibrant ambiance, Club Posh guarantees an unforgettable night of indulgence and entertainment.
Sapphire Night Club: Where Extravagance Shines
Prepare to be dazzled at Sapphire Night Club, a venue that exudes grandeur and sophistication. From the moment you step through the doors, you'll be captivated by the stylish design, extravagant lighting, and high-energy atmosphere.
Sapphire Night Club hosts internationally acclaimed DJs and performers, ensuring an incredible lineup of music and entertainment. Dance beneath the glittering chandeliers, socialize with fellow partygoers, and immerse yourself in the excitement that Sapphire Night Club has to offer.
Conclusion: Let the Night Begin
Gumbet's nightlife is a vibrant tapestry of clubs and nightclubs, each offering its own unique experience. Whether you prefer a high-end nightclub with a touch of luxury or a pulsating dance floor where the music never stops, Gumbet has it all. B1-Be One Club, Club Posh, and Sapphire Night Club are just a few of the fantastic options available to you. So, put on your finest attire, gather your friends, and get ready to dance the night away in Gumbet's hottest nightclubs. The night is young, and the possibilities are endless!
Note: Please drink responsibly, respect local laws and regulations, and prioritize your safety while enjoying the nightlife in Gumbet. Always follow the guidelines provided by the establishments and take care of yourself and your fellow clubbers.