Pamukkale is UNESCO World Heritage archaeological site, located in the Denizli region, about 250 km. from Gumbet. Day tours to Pamukkale has also become very popular with the tourists in Gumbet and Bodrum. And so there are several travel agents organizing day tours to Pamukkale. Pamukkale now receives millions of guests every year, especially from early April to late October. Pamukkale is also famous for wellness travellers.
Why Visit Pamukkale?
Pamukkale is also called as Cotton Castle, and is famous for its spectacular landscape, Cleopatra's Pool, thermal spring having therapeutic powers and the Amphitheatre, Hieropolis World Heritage Site.
Video Tour
What to Expect?
You will be picked from your hotel (mostly about 07:00 am.) in Gumbet and make about three hours journey (with break) in an air-conditioned coach for Pamukkale.
You'll see the thermal spring water laden with calcareous salt, plunging down the mountainside that has created a natural formation of stalactites, cataracts and basins. It is believed that the thermal water has been famous for its therapeutic powers.
You'll enjoy these pure white terraces, pools and castle-like formations. Also you'll have chance to swim at the Roman-built Cleopatra's Pool.
After the pools visit, you'll be taken to the ancient archaeological city of Hierapolis. There, you'll see the Amphitheatre, Hieropolis World Heritage Site, its temples, theaters and necropolis of 1,200 tombs and admire the remnants.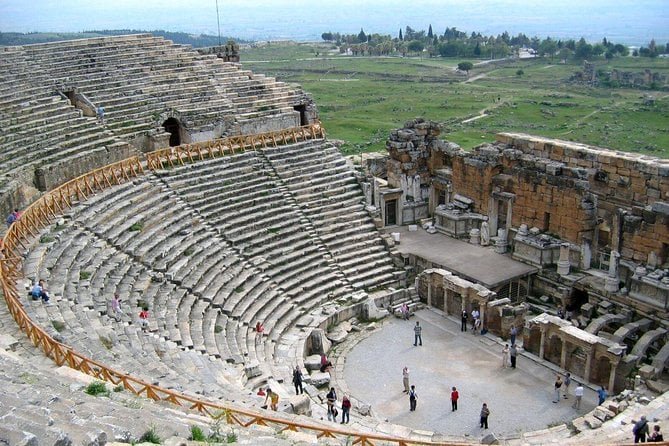 After having your lunch at a local restaurant, you'll continue the tour to learn about the craft of Turkish carpet weaving at an informational centre.
And afterwards, you'll take your bus to get back to your hotel in Gumbet.