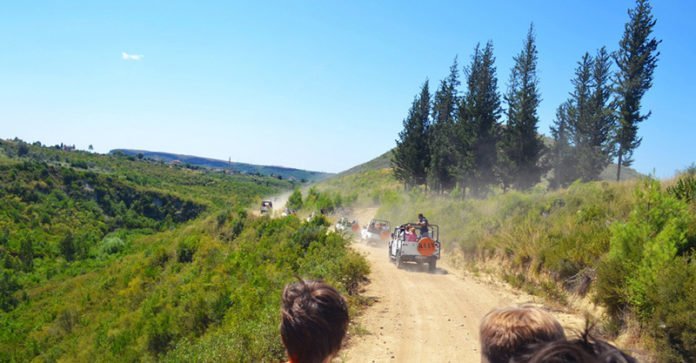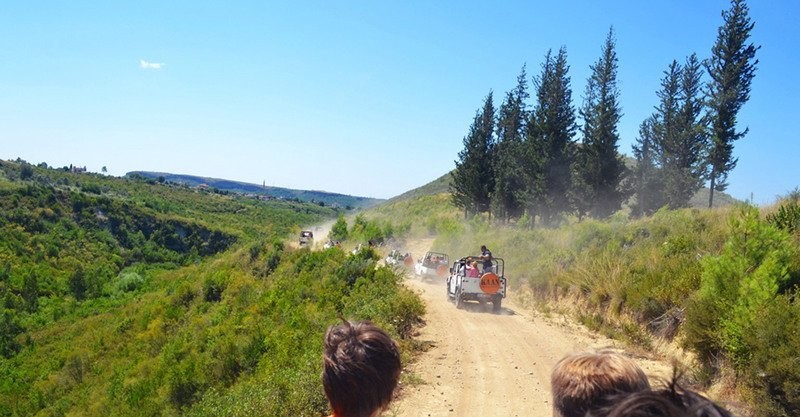 4×4 Off-Road Jeep Safari along the Bodrum Peninsula from Gumbet is also one of the most popular attractions and daily excursions from Gumbet and Bodrum. You can experience the travelling on dirt and dust, while having the adventure of safari through the natural beauties along the coastal and inner tracks on a 4×4 Off-Road Safari Tour.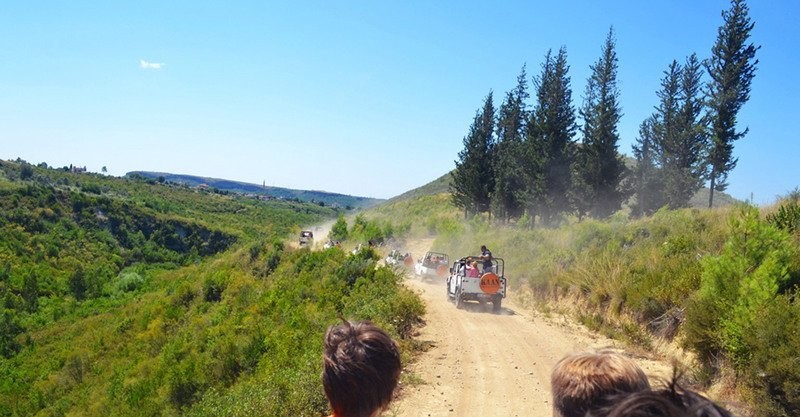 What to Expect?
4×4 Off-Road Safari Tours are mostly organized by 4 to 8 people with the 4×4 terrain vehicles.
If you want to take as much advantage as possible of the incredible countryside views, pine forests, the surroundings and nearby rural farms and villages along Gumbet and Bodrum Peninsula, and get off the beaten path with a local guide, than head out on a 4×4 Off-Road Safari for sure.
Typical Tours
The tours mostly start early in the morning. You'll be picked up from your hotel and than join the group of adventure lovers and start your trip on a 4×4 vehicle.
You'll have a wonderful trip through the tracks of the Bodrum Peninsula, climb over rugged roads to the highest point of the peninsula, while you'll pass through the outstanding landscape of pine forests with countryside views.
You'll visit the Camlik village, famous for its traditional stone houses, a pond with sea turtles, and rural life on a village farm. You'll have a chance to ride a donkey, feed chickens, and learn some Turkish beekeeping at the village.
After a great village lunch at the Camlik village, you'll continue your track for the Ciftlik Gulf, where you'll enjoy swimming and sunbathing at its beautiful beach.
And than you'll ride back for your hotel.
Some tours go for different villages and beaches but the tour itinerary is kinda same.
We highly recommend a 4×4 Off-Road safari on your Gumbet holidays.
How to Book This Tour?
You can find several local tour agents organizing Gumbet & Bodrum daily tours. As insiders, we only suggest the proven ways and top rated ones with travelers' comments.

You can book this tour by our Association of Turkish Travel Agencies (TURSAB) registered (License No:9675) partner, our best collaborator since 3 years, providing in-depth guided tours in Gumbet & Bodrum, via the below reservation form.

You can be sure that you'll take the best service. And as we cut out the middle-men, you always pay the lowest price with a great value for money.

You'll be contacted and informed soon. Our agent guy will meet you at your hotel and present your tour tickets. You can pay in TRY, USD, € or £. No pre payment!!! Pay on arrival.
Price
Adult: £20.00
Children (7-12): £10.00
Infants (0-6): Free
There is no pre-payment. You can pay on the tour day upon arrival.
Tour Details
Tour Days: Everyday
Duration: 09:00 – 16:00
Included
Hotel Transfer
Open Buffet Lunch
Insurance
Excluded
Personal Expenses, Photography & Video Service, Drinks, Water Gun Hire
Reservation Form
---