Welcome to Bodrum Milas Airport (BJV), your gateway to the breathtaking beauty and vibrant energy of Gumbet, Bodrum, Turkey. This comprehensive guide will provide you with all the essential information you need to know about the airport, ensuring a smooth and seamless travel experience. From arrival procedures to transportation options, we've got you covered.
Where is Bodrum Milas Airport (BJV)?
Bodrum Milas International Airport is located 36 km. from central Bodrum and 39 km. from Gumbet on the northwest.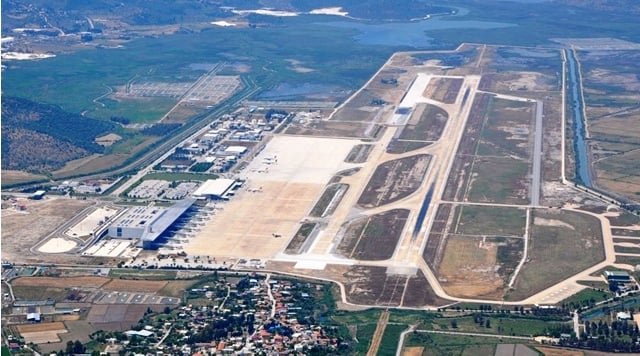 Airport Details
Airport Name :Bodrum Milas Airport
Airport Code :BJV
Latitude :37.2505555
Longitude:27.6644444
Phone :+90 (0252) 523 01 01
Fax :+90 (0252) 523 00 82
Web :www.milasbodrum.dhmi.gov.tr
Airport Facilities
Facilities at the airport include banks, money exchange, shops and restaurants.
Transportation Services
There are variety of transportation opportunities to access Gumbet and Bodrum from Bodrum Milas Airport.
HAVAS Official Airport Shuttle, minibuses, airport transfer companies, car hire and taxis are the most popular options.
Getting to Bodrum Milas Airport
By Air
Bodrum Milas Airport is well-connected to major cities in Turkey and various international destinations. Airlines such as Turkish Airlines, Pegasus Airlines, and SunExpress operate regular flights to and from the airport.
Depending on your location, you can book a direct flight to Bodrum Milas Airport or connect through Istanbul, Ankara, or Izmir, which are major hubs in Turkey.
By Land
If you're already in Bodrum or the surrounding areas, you can reach Bodrum Milas Airport by land. The airport is approximately 35 kilometers northeast of Bodrum city center.
Private transfers, taxis, and car rentals are available for convenient transportation to the airport. You can also consider using public buses that connect Bodrum city center to the airport.
Arriving at Bodrum Milas Airport
Immigration and Customs
Upon arrival at Bodrum Milas Airport, proceed to the immigration counters for passport control. Ensure that you have a valid passport with at least six months of remaining validity.
After passport control, collect your baggage from the designated carousel. Follow the signs for customs, where your luggage may be subject to inspection.
Ground Transportation Options
Bodrum Milas Airport offers several transportation options to get you to your destination in Gumbet and other surrounding areas. Here are the most popular choices:
1. Private Transfers
Private transfers provide a convenient and hassle-free way to reach your accommodation in Gumbet. Pre-booked transfer services offer comfortable vehicles and professional drivers to ensure a seamless journey.
2. Taxis
Taxis are readily available outside the airport terminal. They provide a flexible option for transportation, allowing you to reach your destination directly. Ensure that the taxi meter is running, or agree on a fare before starting the journey.
3. Car Rentals
If you prefer the freedom to explore at your own pace, renting a car is a great option. Several car rental companies have counters at the airport, offering a wide range of vehicles to suit your needs. Make sure to have a valid driver's license and insurance coverage.
4. Public Transportation
For budget-conscious travelers, public transportation is available from the airport. Havaş airport shuttles operate regular services between Bodrum Milas Airport and Bodrum city center. From there, you can connect to Gumbet using local buses or taxis.
Airport Facilities and Services
Bodrum Milas Airport provides a range of facilities and services to enhance your travel experience:
Dining and Shopping
The airport features a selection of restaurants, cafes, and bars where you can enjoy a variety of cuisines and refreshments. Grab a bite to eat or indulge in a cup of Turkish tea before or after your flight.
Duty-free shops are available, offering a wide range of products including perfumes, cosmetics, electronics, and local souvenirs. Take advantage of the duty-free shopping to pick up some unique gifts or mementos.
Lounges
If you're looking for a more comfortable and tranquil environment, consider accessing one of the airport lounges. Lounge facilities offer complimentary snacks, beverages, Wi-Fi, and a peaceful ambience where you can relax and unwind before your flight.
Other Services
Bodrum Milas Airport provides essential services such as currency exchange, ATMs, and banking facilities for your convenience. You can also find a pharmacy, a first aid station, and baby care rooms within the terminal building.
Tips for a Smooth Airport Experience
Here are some tips to make your journey through Bodrum Milas Airport as smooth as possible:
Arrive at the airport well in advance of your flight to allow sufficient time for check-in, security procedures, and any unforeseen delays.
Pack your belongings in compliance with airline regulations and security guidelines to avoid any issues during the security screening process.
Keep your travel documents, including your passport, boarding pass, and any required visas, easily accessible for quick and convenient processing.
Familiarize yourself with the airport layout and signage to navigate through the terminal efficiently.
Stay updated on any changes or announcements related to your flight by monitoring the airport information screens and listening for public address announcements.
Bodrum Milas Airport Transfer to Gumbet (Vice Verca)
Transfer from Bodrum Airport to Gumbet usually takes about 40 mins via private transfer, taxis or coach transfer. Transfer via shuttle or buses will take about one hour or more depending the stops.
We recommend private shuttles as it is by far the most convenient, safe and quick way of getting from BJV to your hotel in Gumbet, and from your hotel in Gumbet to BJV.
Private Shuttle and Airport Transfers to/from Gumbet
If you are a group or a family with kids or having lots of luggage with you, than we highly recommend you to take private transfers for your hotel as they offer a fixed rate, comfortable and safe transfer to your hotel in Gumbet. The Havas airport shuttles will bring you to at the Intercity Bus Terminal of Bodrum and you'll need to take a taxi from there again which will harder for you with your kids and luggage. But private transfers drives you just to the entrance of your hotel.
When you take private transfers, the driver also meets you inside the airport terminal with your name written on a plate. And he accompanies you for the transfer and also he helps you with your luggage like where to take them and even carry them to the shuttle. And as there is a fixed price, you will not have to worry or deal with price calculations.
Easybook Airport VIP Transfers (Highly Recommended)
Easybook Bodrum Airport Transfer (official travel agency with TURSAB license No:9675) is our trusted partner for luxurious and hassle-free VIP transportation services to and from Bodrum Milas Airport (BJV). They take pride in offering a premium transfer experience that exceeds your expectations and ensures your journey is smooth, comfortable, and stylish.
They have a fleet of top-of-the-line VIP vehicles, including the prestigious Mercedes-Benz Vito VIP and Mercedes-Benz Sprinter VIP, to provide you with the ultimate level of comfort and style. Their vehicles are meticulously maintained to guarantee a safe and luxurious ride. Whether you are traveling alone, with your family, or in a group, their team will assist you in selecting the perfect vehicle that suits your party size and ensures a comfortable journey.
Faster and more comfortable than shuttles, buses and taxis. Free cancellation. All prices include fees & tip.
Check their services & Book Your Bodrum Airport Transfer
Or you can directly contact Easybook Airport Transfers via the Whatsapp button below, and get free quote, as well as special discount as being our website visitor.
Contact Easybook Transfers via Whatsapp > +90 530 923 2343
Tranigo
We also recommend Tranigo (a Turkish company operating since 1996, and partnered with renowned names like Hertz, Thrifty, Budget, and many reliable and efficient local suppliers) as we recently booked with them had a great trip to our hotel.
It offers low-priced, fixed rate private shuttles that include meet-and-greet airport pickups and luggage assistance. Their large selection of comfortable taxis, minivans, luxurious cars and 6-19+ passenger minibuses can match any need while ensuring quick and safe travels to and from Bodrum airport (BJV).
Check out & Book Bodrum Airport <-> Gumbet Private Shuttle