Are you planning a vacation to the picturesque town of Gumbet in Bodrum, Turkey? From beachfront retreats to all-inclusive resorts, Gumbet offers a wide range of accommodation options with best hotels to suit every traveler's taste and preferences.
You can find a range of holiday accommodation from 3 star, 4 star, 5 star and family friendly, apartments, holiday villages and holiday villas in Gumbet to choose from budget, standard packages to deluxe residences. Below we put together our pick of most popular and the most preferred hotels in Gumbet to help plan your Gumbet holidays.
Insider Advice Before You Book
* The amenities we put here are all complimentary. However, there can be some additional services with an extra price on some of the hotels.
* Hotels with Gumbet Bay views and close to the beach are highly recommended.
* You can get discounts of up to 15% if you book early and online.
* You should contact the customer services of the hotels before you book to get your special requests (if any) during the reservation. Some hotels can do free airport transfer if you ask.
How to Get the Best Price
We recommend make your hotel search and book online via the world's biggest online hotel booking site. You can get really good discounts and find the best prices with a match.
Best Hotels in Gumbet
Gumbet, Bodrum, is home to an array of remarkable hotels that cater to the diverse needs and preferences of travelers. Whether you're seeking a luxurious beachfront retreat, an all-inclusive resort experience, or a centrally located hotel, Gumbet has it all.
---
Royal Asarlik Beach Hotel
| Adnan Menderes Cd. No:4
Nestled on the beautiful shores of Gumbet, the Royal Asarlik Beach Hotel offers a remarkable beachfront experience. The hotel boasts elegant and spacious rooms, each featuring a private balcony with stunning views of the Aegean Sea. Guests can indulge in a variety of amenities, including multiple swimming pools, a spa and wellness center, and a selection of dining options.
---
Asteria Bodrum Resort
| Adnan Menderes Cd. No:63
The Asteria Bodrum Resort presents a haven of luxury and relaxation, offering a wide array of facilities for a truly memorable stay. The spacious and tastefully designed rooms provide a comfortable retreat, while the resort's private beach and water park offer endless entertainment for guests of all ages. With a range of restaurants, bars, and entertainment options, the Asteria Bodrum Resort ensures an all-inclusive experience.
---
Parkim Ayaz Hotel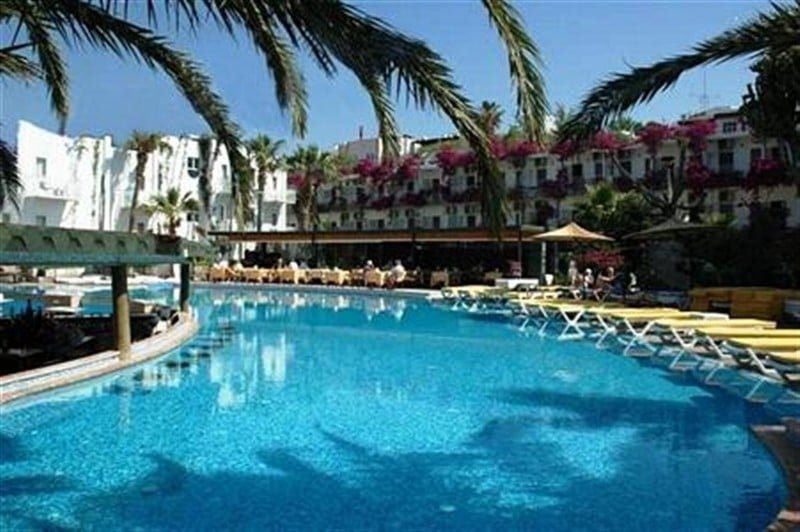 | Ayaz Cd. No:20
Situated in the heart of Gumbet, the Parkim Ayaz Hotel is a popular choice for travelers seeking a central location and exceptional service. The hotel features well-appointed rooms, each equipped with modern amenities and a private balcony or terrace. Guests can enjoy the outdoor swimming pools, the hotel's private beach area, and the lively atmosphere of the on-site bars and restaurants.
---
Riva Bodrum Resort
| Adnan Menderes Cd. No:110
Offering a perfect blend of elegance and tranquility, the Riva Bodrum Resort is an ideal choice for those seeking a peaceful retreat. The resort boasts spacious and stylishly decorated rooms with breathtaking sea views, as well as direct access to a private beach. With its spa, swimming pools, and a variety of dining options, the Riva Bodrum Resort guarantees a rejuvenating and unforgettable stay.
---
Sami Beach Hotel
| Ayaz Cd. No:18
The Sami Beach Hotel is a charming beachfront property that combines traditional Turkish hospitality with modern comforts. The hotel's cozy and comfortable rooms offer beautiful views of the sea or the lush gardens, providing a serene atmosphere for relaxation. Guests can take advantage of the hotel's beachfront location, enjoy water sports activities, or simply unwind by the poolside.
---
Magnific Hotel
| Zengin Hüseyin Sokak No:9
The Magnific Hotel lives up to its name by offering a truly magnificent experience to its guests. The hotel features stylish and contemporary rooms, each designed to provide maximum comfort and relaxation. With its stunning infinity pool, spa facilities, and exceptional dining options, the Magnific Hotel ensures a luxurious and indulgent stay.
---
Serhan Hotel
| Zengin Hüseyin Sk. No:22
Situated just a short walk away from Gumbet's lively center, the Serhan Hotel provides a peaceful retreat with easy access to the town's attractions. The hotel offers comfortable and well-appointed rooms, many of which offer stunning sea views from their balconies. Guests can enjoy the hotel's swimming pool, sun terrace, and the warm hospitality of its staff.
---
Filis Hotel Gumbet
| Büyük İskender Cd., No:7
The Filis Hotel charms its guests with its warm ambiance and attentive service. The hotel's rooms are tastefully decorated and feature modern amenities to ensure a comfortable stay. Guests can relax by the outdoor pool, enjoy delicious meals at the hotel's restaurant, or explore the nearby beaches and attractions.