You can find a range of holiday accommodation from 3 star, 4 star, 5 star and family friendly, apartments, holiday villages and holiday villas in Gumbet to choose from budget, standard packages to deluxe residences.
Below we put together our pick of most popular and the most preferred hotels in Gumbet to help plan your Gumbet holidays.
Insider Advice Before You Book
* The amenities we put here are all complimentary. However, there can be some additional services with an extra price on some of the hotels.
* Hotels with Gumbet Bay views and close to the beach are highly recommended.
* You can get discounts of up to 15% if you book early and online.
* You should contact the customer services of the hotels before you book to get your special requests (if any) during the reservation. Some hotels can do free airport transfer if you ask.
How to Get the Best Price
We recommend make your hotel search and book online via the world's biggest online hotel booking site. You can get really good discounts and find the best prices with a match.
Best Hotels in Gumbet
---
Royal Asarlik Beach Hotel
| Adnan Menderes Cd. No:4
Royal Asarlik Beach Hotel offers a perfect holiday accommodation for families and couples. Situated close to the beach and Gumbet's centre. You can find all you need to enjoy a great holiday right on your doorstep. Hotel also offers beautiful views of Gumbet Bay with its two swimming pools and the restaurant on the top floor.
---
Asteria Bodrum Resort
| Adnan Menderes Cd. No:63
Asteria Bodrum Resort is a modern hotel enjoys a superior beachfront location. The family-friendly hotel has three swimming pools, including one with water slides for lots of wet-and-wild fun.
---
Parkim Ayaz Hotel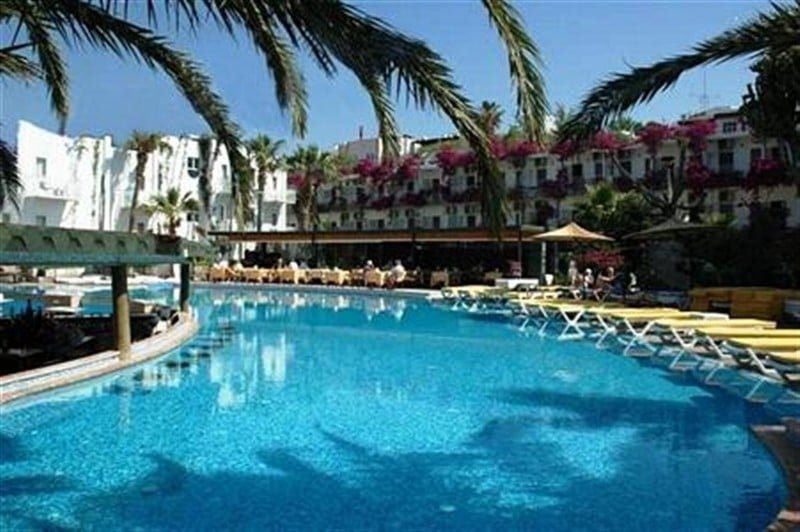 | Ayaz Cd. No:20
This hotel is originally a merge of two hotels into one large holiday complex. You can stroll through the gardens to get to the sea and sand. Hotel has two pools to enjoy, one with a swim-up bar. Situated in the middle of Gumbet, within an easy walk to the shops, bars and restaurants.
---
Riva Bodrum Resort
| Adnan Menderes Cd. No:110
Riva Bodrum Resort offers quality accommodation with its three outdoor swimming pools, and the beach is just an easy stroll away. You can eat and drink in the on-site restaurant, or relax in the Turkish bath or sauna.
---
Sami Beach Hotel
| Ayaz Cd. No:18
Sami Beach Hotel is a family-run hotel and made up of several Turkish-style buildings with traditional interiors. It has beautiful gardens. The hotel is situated on the beachfront, right in the heart of Gumbet's lively holiday scene.
---
Magnific Hotel
| Zengin Hüseyin Sokak No:9
Magnific Hotel is situated on the beachfront and with its ultra-modern public areas set around an attractive clover-shaped swimming pool, it offers ample opportunities for daytime relaxation. After dark, its central location let you can easily enjoy all the restaurants, bars and nightlife that Gumbet has to offer around the popular Bar Street area.
---
Serhan Hotel
| Zengin Hüseyin Sk. No:22
Serhan Hotel is a small, and well-maintained hotel and you can enjoy alfresco drinks in its cafe bar or take a stroll down to Gumbet's lively Bar Street. The hotel is situated at central Gumbet and is a great place to unwind in the sun.
---
Filis Hotel Gumbet
| Büyük İskender Cd., No:7
Filis Hotel is situated in the heart of Gumbet, only 200 meters from the beach. A quality hotel very ideal for families looking for an affordable base from which to explore all the wonders in Gumbet.
---