Are you ready for an exhilarating adventure on the turquoise waters of Gumbet, Bodrum? Look no further than the Jet Ski Adventure, a thrilling experience that will get your adrenaline pumping and leave you with unforgettable memories. Whether you're a seasoned jet ski enthusiast or a beginner looking for a new and exciting activity, this is an experience you won't want to miss during your Gumbet holidays.
The Thrill of Jet Skiing
Jet skiing is often regarded as the most popular watersport, and for good reason. It combines the thrill of speed with the freedom to explore the stunning coastal landscapes of Bodrum. With a powerful jet ski at your command, you can travel long distances in a short period of time or leisurely cruise along the coast, taking in the breathtaking views.
Highlights of the Jet Ski Adventure
Have Fun on a Jet Ski: Get ready for an adrenaline-fueled experience as you hop on a jet ski and feel the rush of the wind in your face. This exciting activity guarantees endless fun and excitement for everyone involved.
Ride Along the Coast: Explore the picturesque coast of Gumbet as you ride your jet ski along the crystal-clear waters. Admire the stunning scenery, including pristine beaches, rocky cliffs, and charming seaside villages.
Spend Some Time of Adventure: Embark on a 10-minute adventure that will leave you with lasting memories. Whether you prefer a fast-paced ride or a leisurely cruise, this experience allows you to tailor the adventure to your preferences.
Jet Skiing for Everyone
Don't worry if you're a beginner or have never tried jet skiing before. Controlling a jet ski is simple and does not require any prior experience. The jet skis provided for the adventure are designed to be powerful and stable, ensuring a safe and confident ride for all participants. Even if you're new to jet skiing, you'll quickly get the hang of it and feel the excitement of gliding across the water.
Share the Adventure or Soak in Serenity
One of the great things about the Jet Ski Adventure is that you have the option to share the experience with a friend or family member. Hop on the jet ski together and create lifelong memories as you navigate the waves side by side. Alternatively, if you prefer a moment of tranquility and solitude, you can embark on the adventure alone and enjoy the serene feeling of being surrounded by the vast expanse of water.
Safety First
Safety is of paramount importance during the Jet Ski Adventure. Before you embark on your ride, you'll receive a comprehensive safety briefing from experienced instructors who will guide you through the necessary precautions and ensure that you have a safe and enjoyable experience. Life jackets and other safety equipment are provided to ensure your well-being throughout the adventure.
Conclusion: Book Your Jet Ski Adventure in Gumbet, Bodrum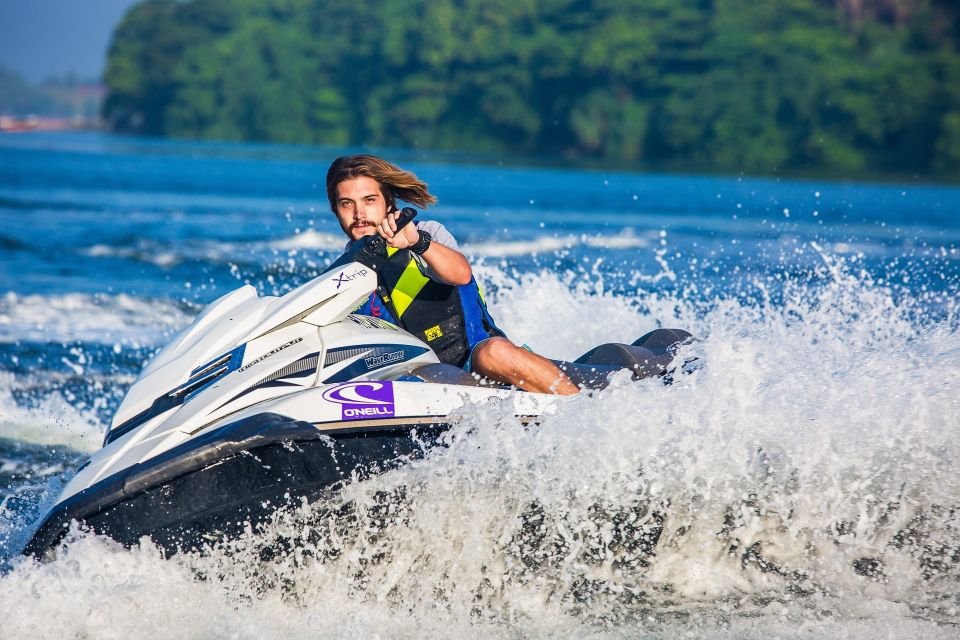 If you're seeking an adrenaline rush and a chance to explore the stunning coastal landscapes of Gumbet, Bodrum, the Jet Ski Adventure is the perfect choice. Experience the thrill of riding a jet ski, feel the wind in your hair, and enjoy the freedom to discover Bodrum's coastline at your own pace.
Whether you're a beginner or an experienced rider, this adventure caters to all skill levels and guarantees an unforgettable experience. So, don't miss out on the opportunity to add excitement and adventure to your holiday in Gumbet, Bodrum. Book your Jet Ski Adventure now and get ready for an incredible ride on the sparkling waters of the Aegean Sea!