Welcome to Gumbet, a haven for food enthusiasts seeking a delectable culinary experience. From traditional Turkish delights to international cuisines, Gumbet and its surrounding areas offer a diverse range of dining options. In this guide, we'll delve into the gastronomy of the Bodrum Peninsula, explore the dining scene in Gumbet, highlight must-try local dishes, and provide insights into the best areas and places to satisfy your taste buds.
Gastronomy of Bodrum Peninsula
The Bodrum Peninsula is known for its rich culinary heritage, blending traditional Turkish flavors with influences from Mediterranean and Aegean cuisines. The region boasts an abundance of fresh seafood, locally sourced ingredients, and aromatic spices. Prepare your taste buds for a journey of flavors as you explore the gastronomic delights of Gumbet and the Bodrum Peninsula.
Dining Scene of Gumbet
Gumbet offers a vibrant dining scene with a wide variety of restaurants, cafes, and bars catering to diverse palates. Whether you're craving Turkish classics, international dishes, or fusion cuisine, Gumbet has something to satisfy every culinary desire. From waterfront eateries to cozy family-run establishments, there's a dining spot for every occasion and preference.
Holidaymakers are able to find variety of dining opportunities in Gumbet. Eating out along the lined-up cafes and restaurants by the beach front in Gumbet is one of the greatest attractions.
It is possible to find every kind of food and beverage for your taste in Gumbet. English food is very common in every cafes and restaurants together with Turkish, Mediterranean etc. Traditional Turkish cuisine is one of the best in the world. Turkish kebabs, starters and meat dishes together with popular Turkish sweets such as baklava and Turkish delight are a must.
What to Eat in Gumbet
Popular Dishes
Popular dishes specific to Bodrum peninsula and Gumbet include; the spicy roasted herb (Ot Kavurmasi), boiled pastries and stuffed pumpkin flowers. Seafood is also one of the best dishes to taste for the holidaymakers.
The many bars, restaurants and nightclubs, seemingly hidden during the day, rise up out of the resort and take it over in a swarm of light and sound. This party lasts until dawn every night throughout the summer. If you'd like to know the popular Gumbet restaurants to eat out before the descent of this revelry, head to Jack's Bar for large portions of delicious food.
When dining in Gumbet, be sure to indulge in the following local delicacies:
Meze
Start your meal with a selection of meze, which are small, flavorful dishes that can include stuffed grape leaves, hummus, eggplant dishes, and more. Meze is perfect for sharing and sampling different flavors.
Fresh Seafood
Gumbet's coastal location means you have access to an abundance of fresh seafood. From grilled octopus and succulent shrimp to whole fish baked in salt crust, seafood lovers will be in paradise.
Lamb Dishes
Turkey is famous for its tender and flavorful lamb dishes. Don't miss the opportunity to savor classics like lamb kebabs, slow-cooked lamb stew, and traditional lamb tandir.
Pide
Similar to pizza, pide is a Turkish flatbread topped with various ingredients such as cheese, minced meat, vegetables, or sucuk (Turkish sausage). It's a delicious and satisfying option for a quick bite.
Baklava
End your meal on a sweet note with baklava, a traditional Turkish dessert made of layers of filo pastry filled with chopped nuts and sweetened with syrup or honey. It's a heavenly treat that shouldn't be missed.
Popular Restaurants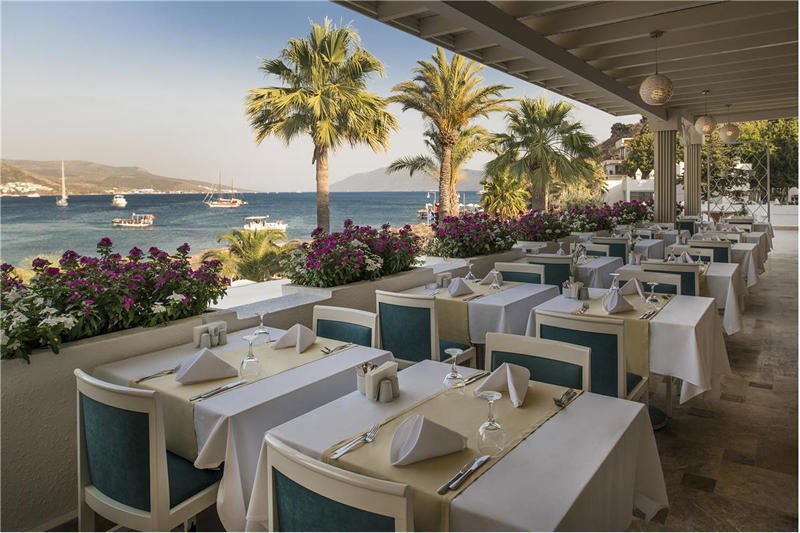 Popular restaurants are the Windy Bay Restaurant, Jack's Place, Casablanca Restaurant, China Town Restaurant, Analivia's Restaurant, Our House Restaurant, Saray Zetas Restaurant, Diver's Restaurant and more. Continue reading…
Where to Eat Cheap?
If you eat where the locals eat, than it is cheaper. The restaurants located out of Gumbet towards the big main road to Bodrum would be a nice choice.
Best Areas & Places to Eat in Gumbet and Bodrum Peninsula
To help you navigate the culinary landscape of Gumbet and the Bodrum Peninsula, here are some of the best areas and places to satisfy your taste buds:
1. Gumbet Beach Promenade
Stroll along the lively beach promenade in Gumbet, where you'll find a plethora of dining options ranging from beachfront cafes to upscale seafood restaurants. Enjoy panoramic views of the sea as you savor delicious meals prepared with the freshest ingredients.
2. Bodrum Marina
Head to the vibrant Bodrum Marina, a hub for dining and entertainment. Here, you'll discover a wide range of restaurants serving international cuisines, from Mediterranean and Italian to Asian fusion. Dine alfresco by the marina and soak in the lively atmosphere.
3. Bodrum Old Town
Explore the charming streets of Bodrum Old Town and uncover hidden gems tucked away in its narrow alleys. From cozy family-run eateries to trendy rooftop restaurants, the Old Town offers a mix of traditional Turkish fare and international dishes.
4. Local Markets
For an authentic culinary experience, visit the local markets in Bodrum and Gumbet. Immerse yourself in the vibrant atmosphere as you browse through stalls selling fresh produce, spices, and local delicacies. Don't miss the opportunity to taste freshly baked bread, local cheeses, and olives.
5. Turkish Village Restaurants
Venture outside the main tourist areas and discover traditional Turkish village restaurants. These charming establishments offer an authentic taste of local cuisine, with dishes prepared using age-old recipes and locally sourced ingredients. Experience the warm hospitality and enjoy the rustic ambiance.
Conclusion
Gumbet and the Bodrum Peninsula offer a culinary adventure that will delight your taste buds and leave you craving for more. From traditional Turkish meze to mouthwatering seafood and delectable desserts, the region's gastronomy is a true reflection of its rich cultural heritage. Explore the diverse dining scene in Gumbet, savor local delicacies, and venture into Bodrum's vibrant food hubs. Embark on a gastronomic journey and create unforgettable memories as you indulge in the flavors of Gumbet and the Bodrum Peninsula. Bon appétit!