Welcome to Gumbet, a vibrant resort town nestled on the Aegean coast of Bodrum. Known for its stunning beaches and exciting water activities, Gumbet is a paradise for watersport enthusiasts. In this blog post, we will dive into the thrilling world of watersports in Gumbet. From adrenaline-pumping adventures to leisurely pursuits, Gumbet offers a wide range of activities to suit every preference. So, grab your swimsuit, embrace the spirit of adventure, and let's explore the best watersports activities and centers that Gumbet has to offer.
What to Expect?
Gumbet Bay and Gumbet beach is very ideal for water sports. The many water sports centers in the Bodrum Peninsula are located in Gumbet. The Gumbet beach is a kilometre of golden sand which curves around the bay of Gumbet.
If you want to relax in the sun on a towel, sun bed or under an umbrella, if you want to partake in extreme water sports or just need some spray to brush off last night's hangover, if you want to bring the family to take advantage of the safe swimming and shallow waters, or if you just want to sit in a beach bar and chat to other holidaymakers, the Gumbet beach will cater for you.
The Thrill of the Waves: Best Watersports Activities
The superb array of water sports in Gumbet is available that include; windsurfing, water skiing, scuba diving, jet skiing, parasailing, banana boats, pedalos and fly-fishing, the latter which is an inflatable similar to a banana boat but much bigger, and the front of the inflatable rises 5 metres above the water.
Jet Skiing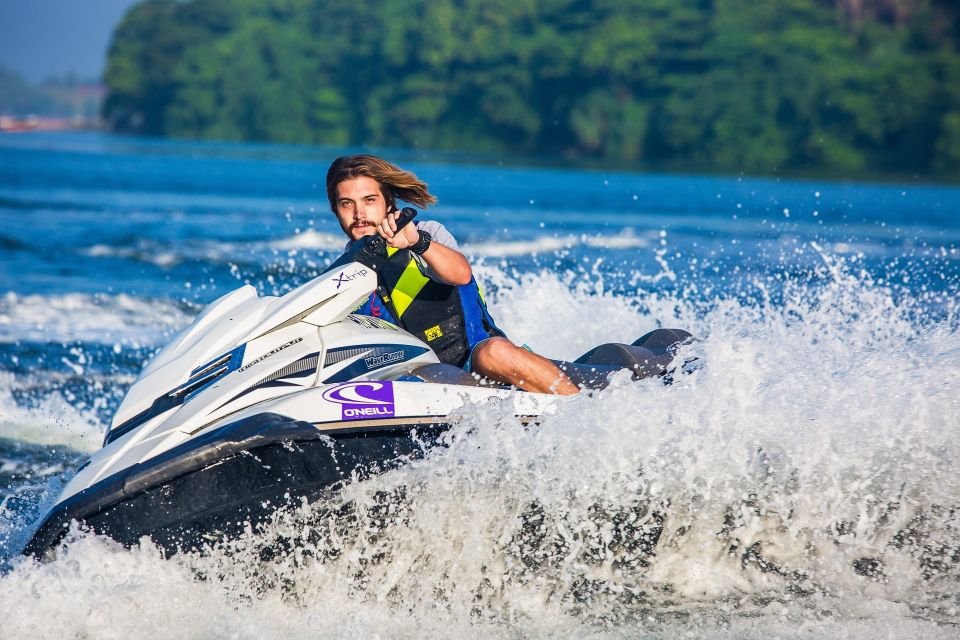 Feel the exhilaration as you zip across the turquoise waters on a jet ski. Jet skiing is one of the most popular watersports activities in Gumbet, offering an adrenaline rush like no other. Whether you're a novice or an experienced rider, the thrill of skimming the waves is an experience not to be missed.
Parasailing
Soar high above Gumbet's coastline and take in breathtaking panoramic views with parasailing. Strap into a harness, attach yourself to a parachute, and let the wind carry you as you glide through the sky. Parasailing offers a unique perspective of Gumbet's scenic beauty and is a thrilling activity for adventure seekers.
Ringos or Speedzone Ride Boat Ride
If you're seeking an exhilarating water adventure during your holiday in Gumbet, Bodrum, don't miss out on the Ringos or Speedzone Ride Boat Ride. This thrilling experience will have you laughing, screaming, and creating unforgettable memories. Whether you choose to ride solo on the Ringo or enjoy the Speedzone with your friends or family, you're guaranteed an adrenaline rush like no other.
Banana Boat Rides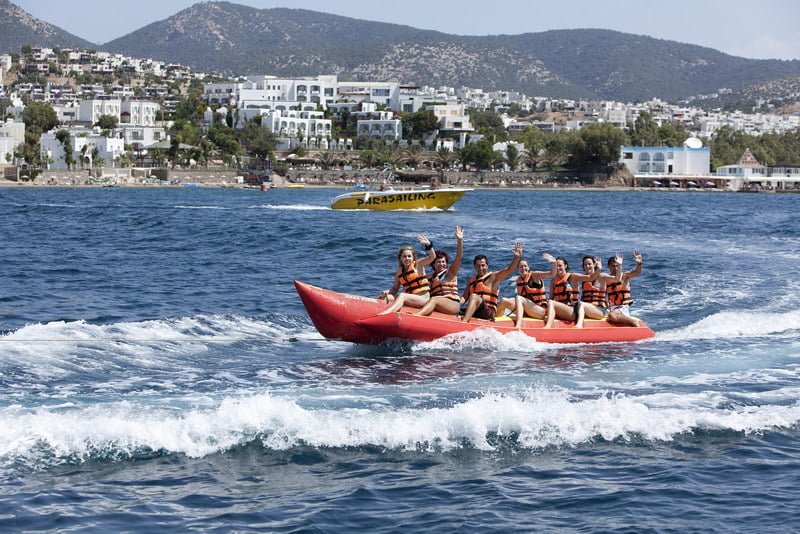 Gather your friends or family and hop aboard a banana boat for a fun-filled ride. Hold on tight as you're pulled behind a speedboat, bouncing and splashing through the waves. Banana boat rides are a fantastic way to enjoy some laughter and create unforgettable memories.
Water Skiing and Wakeboarding
For those seeking a blend of excitement and skill, water skiing and wakeboarding are ideal choices. Strap on your skis or wakeboard and carve through the water's surface, feeling the rush of adrenaline as you navigate the waves. Whether you're a beginner or an expert, Gumbet's waters provide the perfect playground for these thrilling activities.
Snorkeling and Scuba Diving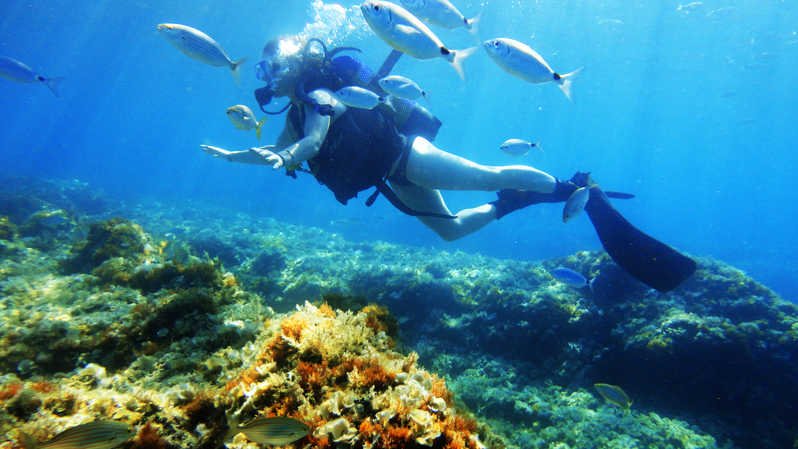 Explore the underwater world teeming with marine life through snorkeling or scuba diving. Gumbet's crystal-clear waters offer excellent visibility, allowing you to discover vibrant coral reefs, fascinating rock formations, and a variety of colorful fish. Immerse yourself in the tranquility of the underwater realm and witness the beauty that lies beneath the surface. Anyone can learn to dive at the facilities here, whether you're a complete beginner or an expert. Continue reading…
Bodrum Aqua Park
Bodrum Aqua Park, a sprawling facility spread over approximately 35,000 square meters. The park is situated in Ortakent, about 5,7 km from Gumbet. With its wide range of thrilling water slides, activities, and restaurants, Bodrum Aqua Park is the ultimate destination for fun and adventure.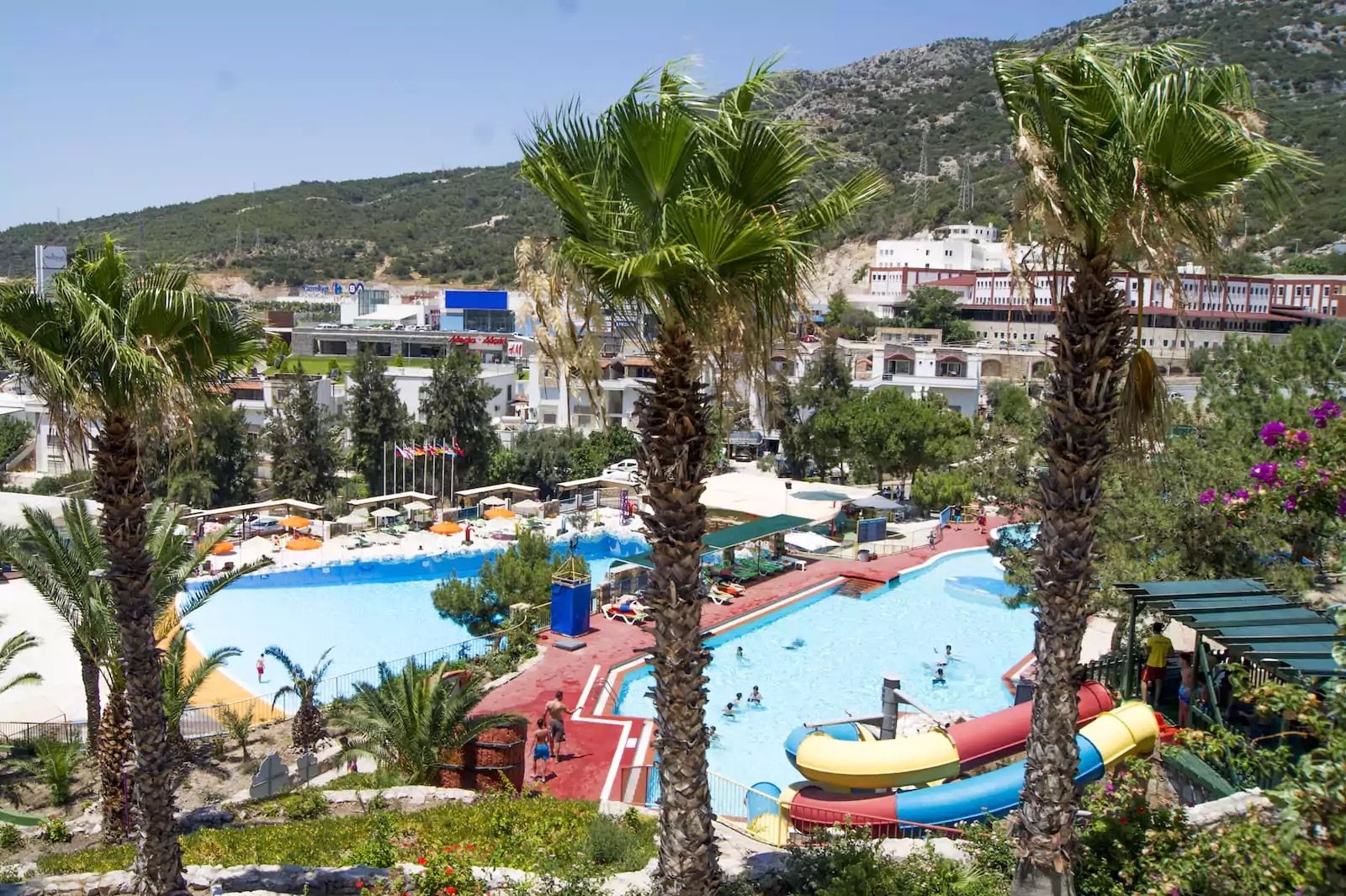 11 Water Slides: Experience the thrill of rushing down a variety of exciting slides that cater to all levels of adrenaline seekers.
15 Rafting Slides: Gather your friends and hop on a raft as you navigate through thrilling twists and turns.
8 Unique Water Tunnels: Embark on a watery adventure through a series of captivating tunnels.
Blue Cruising
Blue cruising in Bodrum and Gumbet is also another great attraction for sea lovers. There are various routes and boat categories for the holidaymakers to choose from. Most popular blue cruising routes are made by the Gokova Bay through Gokova, Gocek and Antalya.
Yacht charters in Gumbet or Gulet charters in Gumbet offer the best yacht and gulet holidays in Bodrum Gumbet for you. Blue cruising in Bodrum Gumbet is made by a "Yacht Charters", "Gulet Charters" or "Cabin Charters". Continue reading…
Video Tour
Watersports Centers in Gumbet
Gumbet Watersports Parasailing & Jetski Center
Gumbet Watersports Parasailing & Jetski Center is a reputable center that offers a wide range of watersports activities. With experienced instructors and top-quality equipment, they ensure a safe and enjoyable experience for all visitors. Whether you're looking to try jet skiing, parasailing, or water skiing, the center provides professional guidance and exceptional service.
Gumbet Watersports
Situated right on the beach, Gumbet Watersports is a hub for watersport enthusiasts. From jet skiing to banana boat rides, they offer an array of thrilling activities suitable for all ages and skill levels. Their friendly and knowledgeable staff are dedicated to ensuring a memorable experience for every guest.
Bodrum Watersports
Bodrum Watersports is another popular destination for watersports in Gumbet. With their extensive range of activities, including snorkeling, scuba diving, and water skiing, they cater to the diverse interests of visitors. Whether you're a beginner or an experienced adventurer, Bodrum Watersports provides personalized attention and a range of options to suit your preferences.
Safety Tips for Watersports in Gumbet
Always listen to the instructions provided by the watersports center and follow the guidance of experienced instructors.
Wear appropriate safety gear, such as life jackets or helmets, as recommended for each activity.
Stay within designated areas and follow any safety guidelines or restrictions set by the authorities.
Be mindful of other water users and maintain a safe distance to ensure everyone's well-being.
Check the weather conditions before embarking on any watersports activity and avoid going out in unfavorable conditions.
Conclusion: Dive into Adventure
Gumbet offers a thrilling playground for watersport enthusiasts, with a variety of activities to satisfy every appetite for adventure. Whether you're seeking an adrenaline rush or a leisurely exploration of the underwater world, Gumbet's watersports scene has something for everyone. From jet skiing and parasailing to snorkeling and scuba diving, the options are endless. So, get ready to make a splash, create unforgettable memories, and embrace the excitement of watersports in Gumbet.
Note: Always choose reputable watersports centers, adhere to safety guidelines, and ensure you have the necessary skills and abilities for each activity. Please check the availability and operating hours of watersports centers, and make reservations in advance when necessary. Enjoy your watersports adventures responsibly and have a fantastic time exploring the beauty of Gumbet's coastline.