Welcome to Bodrum Aqua Park, a sprawling facility spread over approximately 35,000 square meters. The park is situated in Ortakent, about 5,7 km from Gumbet. With its wide range of thrilling water slides, activities, and restaurants, Bodrum Aqua Park is the ultimate destination for fun and adventure. Since 2018, under new management, the park has been committed to providing exceptional service and a superior quality experience to its visitors. Here you can find information on Bodrum Aqua Park tickets, what to expect, thrills, slides, rides, services, location info and advice.
A New Vision for Bodrum Aqua Park
Bodrum Aqua Park is now operated by Bodrum AYKA Turizm Tic. Ltd. Şti., a company with a fresh perspective and a vision to elevate this beloved facility to new heights. The new management has dedicated their resources and efforts to ensure that Bodrum Aquapark receives the recognition it deserves. Customer satisfaction and safety are at the forefront of their priorities, and they are prepared to welcome both the local community and visitors to Bodrum.
Endless Thrills and Excitement
At Bodrum Aqua Park, you are guaranteed to have hours of excitement and enjoyment. With a wide range of activities available, there is something for everyone to indulge in. Here are some of the highlights:
Water Slides Galore
11 Water Slides: Experience the thrill of rushing down a variety of exciting slides that cater to all levels of adrenaline seekers.
15 Rafting Slides: Gather your friends and hop on a raft as you navigate through thrilling twists and turns.
8 Unique Water Tunnels: Embark on a watery adventure through a series of captivating tunnels.
Special Areas for Kids
Bodrum Aqua Park is not just for adults; it caters to the little ones as well. The park features dedicated areas for children, ensuring their safety and providing them with endless entertainment. These areas include:
Kids' Play Zone: Let the little ones immerse themselves in a world of joy with age-appropriate water activities and structures.
Children's Pool: Watch as your kids splash and play in a safe and controlled environment designed just for them.
Kamikaze and Lazy River
For the thrill-seekers, the Kamikaze slide promises an exhilarating rush as you plunge down at high speeds. If you're looking for a more leisurely experience, hop on a tube and float along the Lazy River, letting the gentle current carry you away.
Wave Pool
Immerse yourself in the excitement of the Wave Pool, where you can ride the simulated waves and feel like you're at the beach. It's the perfect spot to cool off and have fun with friends and family.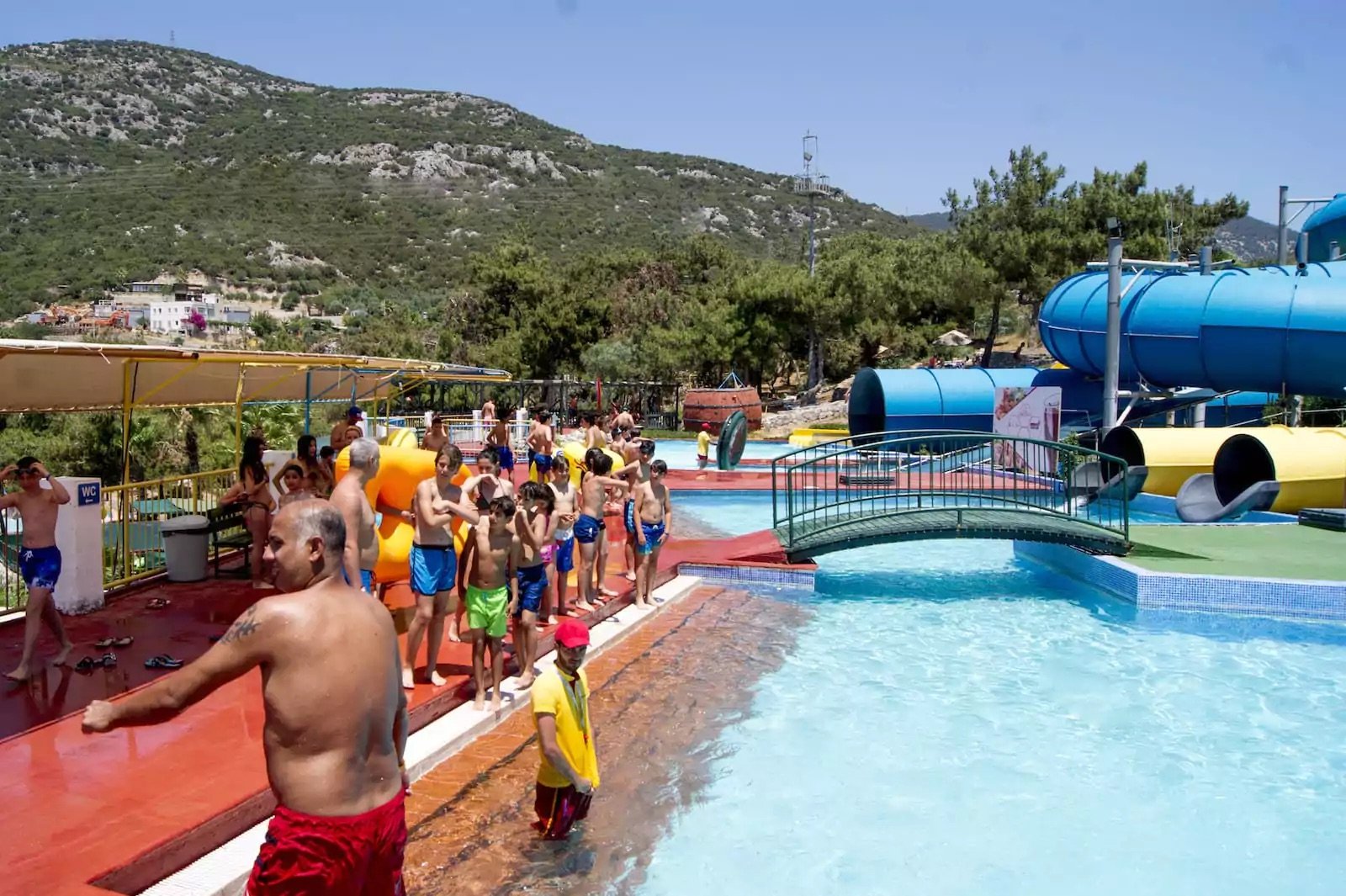 Safety and Operating Hours
Bodrum Aqua Park prioritizes the safety and well-being of its guests. Stringent safety measures and rules are in place to ensure a secure environment for all visitors. Additionally, the park operates within specified hours to accommodate everyone's enjoyment:
Opening Time: 10:30 AM
Closing Time: 7:00 PM
Book Your Bodrum Aqua Park Tickets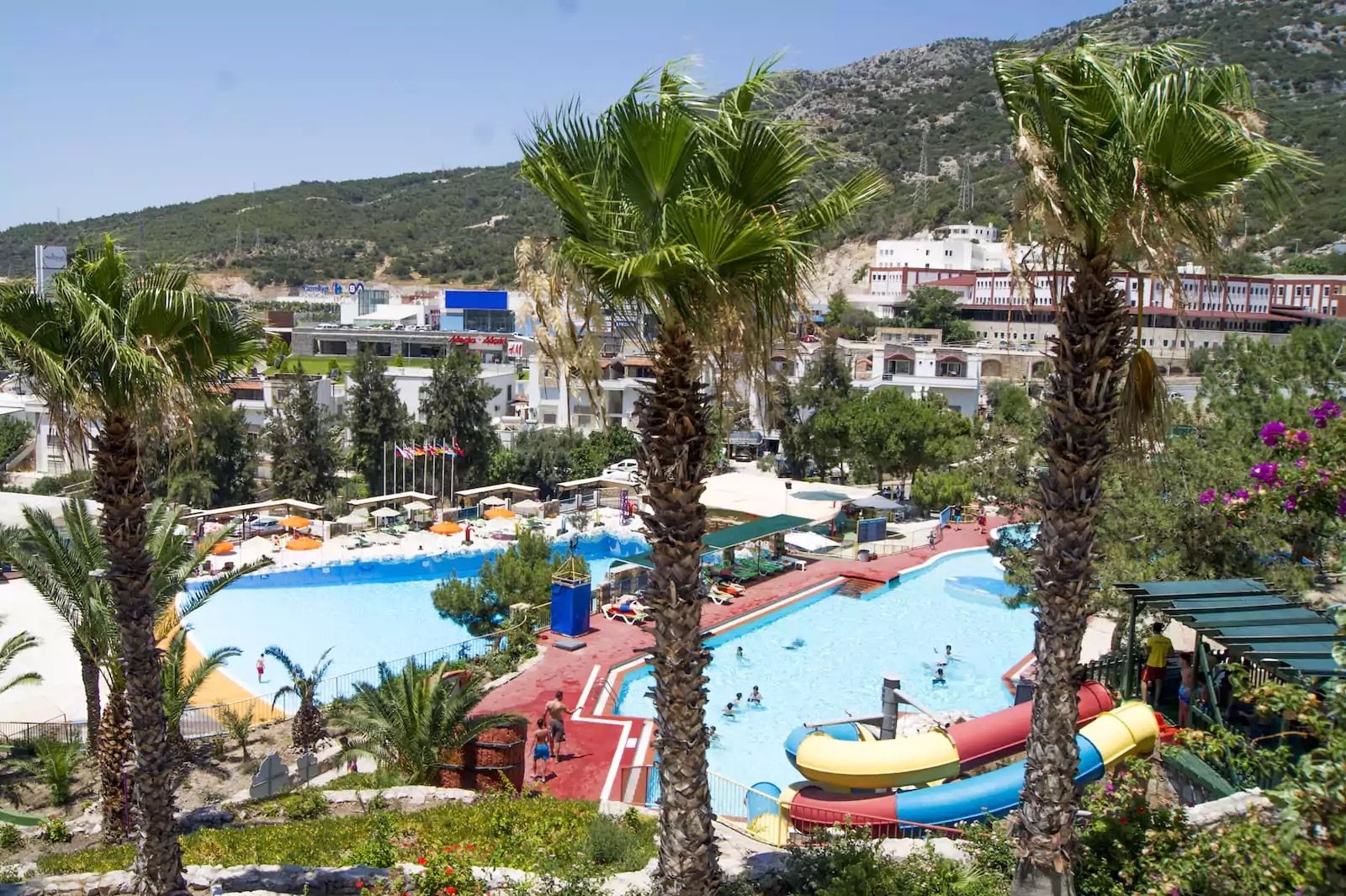 Race down the inside of the cliffs in the frothing waters of the Wild River
Experience the high-speed rush and special lighting effects of the Black Hole
Slide with friends or family as a group on the Multislide
Take on the formidable Kamikaze slide, with its hair-raising near-vertical descent
Plunge into the surf of the Wave Pool
---
Conclusion: Dive into Adventure at Bodrum Aqua Park
Bodrum Aqua Park beckons you to immerse yourself in a world of excitement and adventure. Whether you're seeking heart-pounding thrills on the water slides, a leisurely float along the Lazy River, or a fun-filled day with the little ones in the dedicated children's areas, Bodrum Aqua Park has it all. With its commitment to exceptional service, safety, and enjoyment, the park guarantees a memorable experience for all visitors. So, book your reservation now and get ready to dive into a world of aquatic fun at Bodrum Aquapark!
Note: Please check the park's availability and any specific rules or regulations prior to your visit. Enjoy the facilities responsibly and adhere to all safety guidelines for a fantastic day at Bodrum Aqua Park.