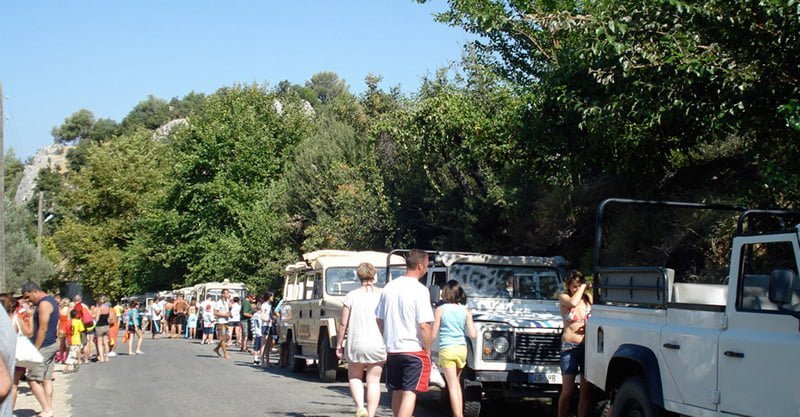 Being a stunning resort with beautiful views of bay, the harbour, and golden sandy beaches within walking distance, Gumbet offers great things to do for holidaymakers. You can do loads of attractions in Gumbet no matter what time of day it is.
As the incredible beach in the gorgeous settings is the sole reason for this resort being here, the list of main activities ranges from lying on the beach to dabbling in water sports to going for a drive around the surrounding hills and mountains.
Essential Things to Do in Gumbet
A great Beach Day Out
The Gumbet beach is a kilometre of golden sand which curves around the bay. There isn't a type of person who wouldn't find a second home here; if you want to relax in the sun on a towel, sunbed or under an umbrella, if you want to partake in extreme water sports or just need some spray to brush off last night's hangover, if you want to bring the family to take advantage of the safe swimming and shallow waters, or if you just want to sit in a beach bar and chat to other holidaymakers, the Gumbet beach will cater for you.
If you're bringing the family, your kids will never be short of things to do. The safe waters, soft sand and abundance of shade make the perfect exotic playground, and they can take a camel ride or nearby Kargi Beach. Continue reading…
Water Sports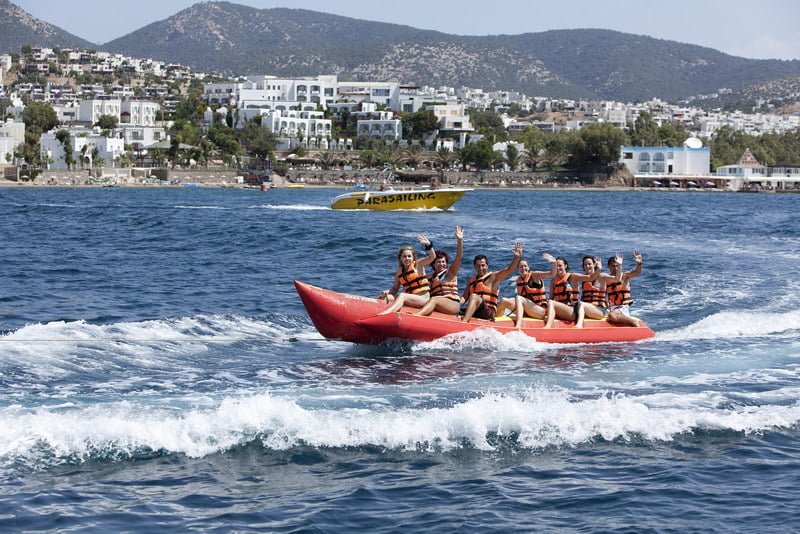 The superb array of water sports in Gumbet available here include windsurfing, water skiing, scuba diving, jet skiing, parasailing, banana boats, pedalos and fly-fishing, the latter which is an inflatable similar to a banana boat but much bigger, and the front of the inflatable rises 5 metres above the water. Continue reading…
All Inclusive Daily Boat Trips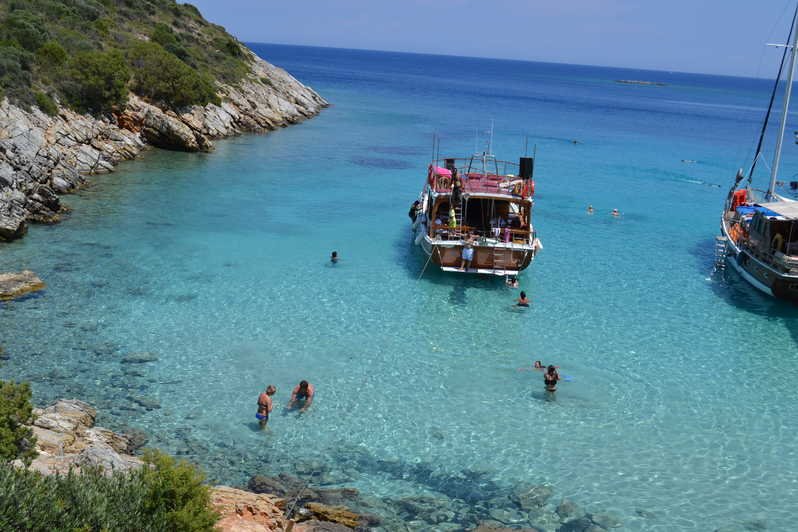 Gumbet Bay and surrounding coves are very beautiful. Participating to a daily boat trip and explore the beautiful coasts and bays of Gumbet, Bodrum and surrounding area is one of the best things to do in Gumbet. Sun, sea, swimming and slumber are the order of the day on the boat trip. Soak up the sun on deck, enjoy a refreshing swim, or pull on a snorkel mask and take a closer look at life beneath the waves. Continue reading…
Scuba Diving
There are excellent places for scuba diving around Gumbet, such as the 'Big Reef', which is a large coral reef covered in orange sponges, sea urchins, star fish and other crustaceans, and which is surrounded by a huge host of tropical fish such as barracuda and vibrantly coloured parrot fish.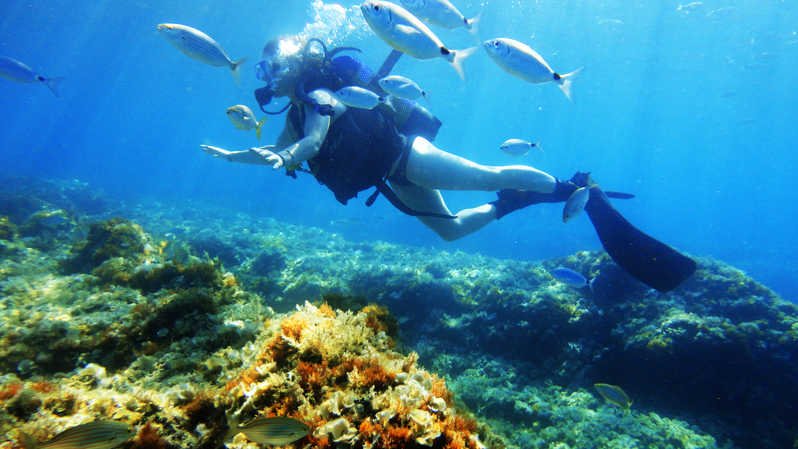 Anyone can learn to dive at the facilities here, whether you're a complete beginner or an expert. Continue reading…
A fun Day Out at Bodrum Water Park
If you can drag them away from the beach, the Bodrum Aqua Park will give them something to remember, as it has a massive 23 waterslides, a 350 metre river with artificial waves, variety of pools, a wave pool and many restaurants with entertainment, all within an expansive 65,000 square metres.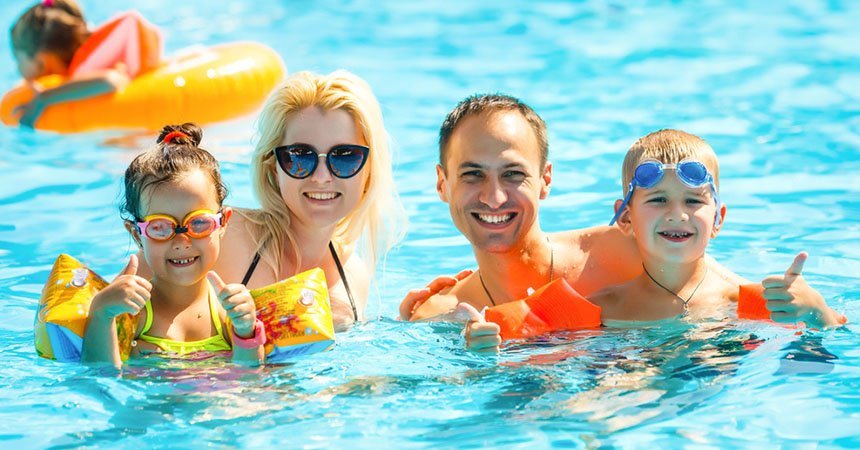 This park is located on the outskirts of neighbouring Bodrum and is easily accessible via bus. Continue reading…
Enjoy Gumbet's Surroundings
You can bike, hike or rent a car and drive around the surrounding hills and mountains to find breath-taking views of this lushly-forested area of Turkey. You can hire out a boat to visit the untouched islands nearby, and visit some Turkish villages which have avoided the rampant and unstoppable path of the tourist industry and have maintained all of their charming and traditional style, as well as being much more peaceful than the Gumbet or Bodrum resorts.
4×4 Off-Road Safari
4×4 Off Road Safari Safari Tours along the Bodrum Peninsula from Gumbet is also one of the most popular attractions and daily excursions from Gumbet and Bodrum.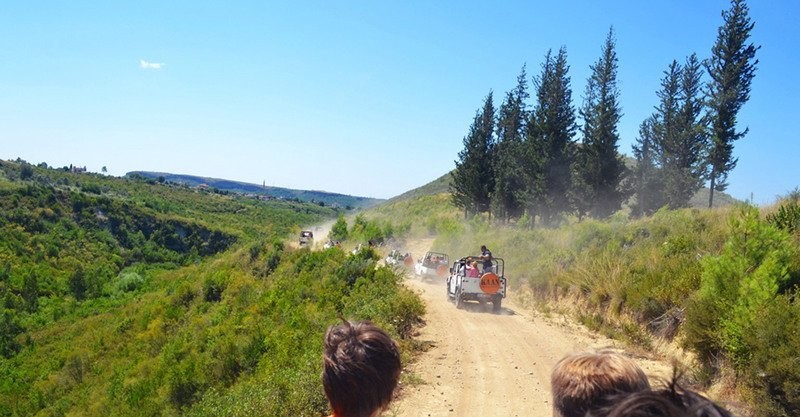 You may experience the travelling on dirt, dust and stone paved roads, having the adventure of safari in the company of the heaven nature and tracks on a 4×4 Off Road Safari Tour. Continue reading…
Quad & Buggy Safari
For the ones who love adrenaline and adventure, than heading for a Quad and Buggy Safari along the beautiful tracks surrounding Gumbet and Bodrum peninsula would be an unforgettable experience during your Gumbet holidays.. Continue reading…
Horse Safari
For the ones who love horse riding on the beautiful natural beauties, breathtaking trails alon the pine forests in the surrounding areas of Gumbet and Bodrum peninsula, than we highly recommend you to take a horse safari or horseback riding tour during your Gumbet holidays. Continue reading…
Explore Historical Sites in central Bodrum
Gumbet holidays don't have much in the way of sights, but if you catch a short Dolmus bus to Bodrum, you can visit the many regal and dominating structures the tourist resort has been built around.
The main attractions here include the impressive Bodrum castle dating back to the 16th century, the Museum of Underwater Archaeology, the Amphithetare and the Mausoleum.
Take Day Tours from Gumbet
Day Tour to Ephesus & House of the Virgin Mary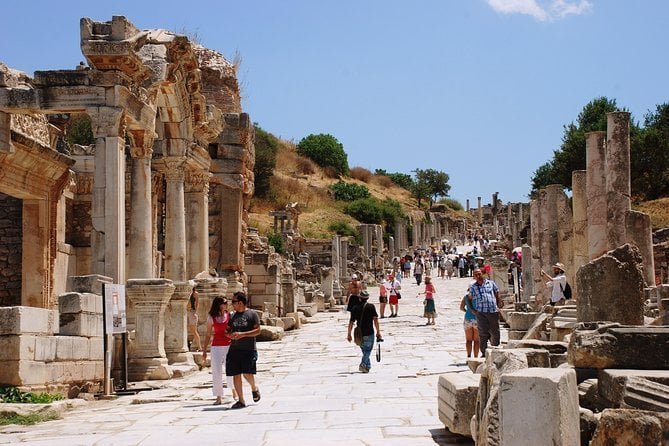 If you're willing to go on a day trip, the ancient city of Ephesus is within easy reach, which is home to some of the most well preserved Roman ruins and is the most extensive collection of classical Roman architecture in the world. Continue reading…
Day Tour to Cotton Castle Pamukkale
Pamukkale is also called as Cotton Castle, and is famous for its spectacular landscape, Cleopatra's Pool, thermal spring having therapeutic powers and the Amphitheatre, Hieropolis World Heritage Site. Continue reading…
Day Tour to Dalyan (Turtle Beach)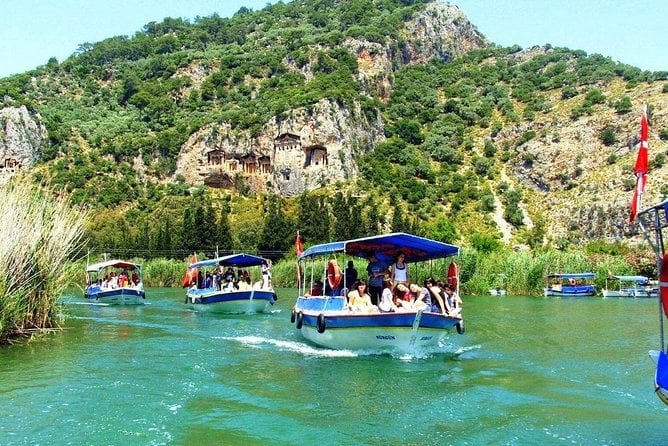 Dalyan is famous for its very beautiful Dalyan river, golden sandy Iztuzu beach, also known as Turtle beach by most of the UK holidaymakers, the sea turtles (Caretta Caretta), the world famous mud bath which give health to both your body and skin, the Lycian rock tombs, and the ancient city of Kaunos. Continue reading…
Blue Cruising
Blue cruising in Bodrum and Gumbet is also another great attraction for sea lovers. There are various routes and boat categories for the holidaymakers to choose from. Most popular blue cruising routes are made by the Gokova Bay through Gokova, Gocek and Antalya.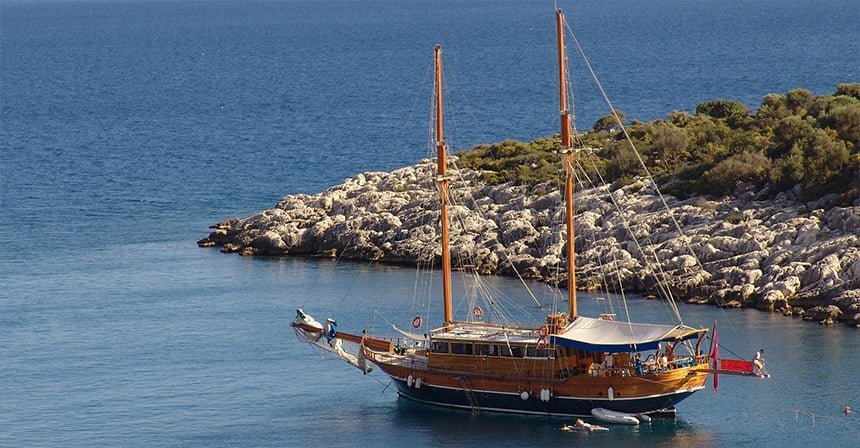 Yacht & Gulet charters in Bodrum and Gumbet offer the best yacht and gulet holidays in Bodrum Gumbet for you. Blue cruising in Bodrum Gumbet is made by a "Yacht Charters", "Gulet Charters" or "Cabin Charters".
---