Welcome to Gumbet, a beautiful resort town nestled on the Bodrum Peninsula in Turkey. Known for its stunning beaches, vibrant nightlife, and a wide range of water sports activities, Gumbet offers a fantastic holiday destination for travelers seeking both relaxation and adventure. In this guide, we'll explore the main sights, places to visit and see, attractions of Gumbet, as well as provide some insider guide advice to help you make the most of your visit. Get ready to discover the charm of Gumbet and create unforgettable memories during your holiday in Bodrum.
What to Expect?
Places to see in Gumbet are impressive. Holidaymakers may find variety of great sights in Gumbet. The Gumbet beach is a kilometre of golden sand which curves around the bay.
Perfect Beaches
There isn't a type of person who wouldn't find a second home here; if you want to relax in the sun on a towel, sunbed or under an umbrella, if you want to partake in extreme water sports or just need some spray to brush off last night's hangover, if you want to bring the family to take advantage of the safe swimming and shallow waters, or if you just want to sit in a beach bar and chat to other holidaymakers, the Gumbet beach will cater for you.
If you're bringing the family, your kids will never be short of things to do. The safe waters, soft sand and abundance of shade make the perfect exotic playground, and they can take a camel ride or nearby Kargi Beach.
Gumbet Beach: Soak up the Sun and Dive into Crystal-Clear Waters
Gumbet Beach is a must-visit destination for beach lovers. With its golden sands and crystal-clear waters, it's the perfect place to unwind and relax under the warm Turkish sun. Take a leisurely stroll along the shoreline, build sandcastles, or simply find a comfortable spot to sunbathe and enjoy the breathtaking views. If you're feeling adventurous, try out some water sports activities such as jet skiing, parasailing, or windsurfing for an adrenaline rush.
Water Parks
If you can drag them away from the beach, the Bodrum Aqua Park will give them something to remember, as it has a massive 23 waterslides, a 350 metre river with artificial waves, variety of pools, a wave pool and many restaurants with entertainment, all within an expansive 65,000 square metres. This park is located on the outskirts of Ortakent neighbouring Bodrum and is easily accessible via bus.
Historical Sites in central Bodrum
Gumbet holidays don't have much in the way of sights, but if you catch a short Dolmus bus to Bodrum, you can visit the many regal and dominating structures the tourist resort has been built around.
The main attractions here include the impressive Bodrum Castle dating back to the 16th century, the Museum of Underwater Archaeology, the Amphithetare and the Mausoleum.
Bodrum Castle: Explore the Magnificent Fortress
A visit to Bodrum Castle is a must during your time in Gumbet. This impressive fortress, also known as the Castle of St. Peter, dominates the Bodrum skyline and offers panoramic views of the surrounding area. Step inside the castle walls and discover a treasure trove of history and culture. Explore the museum housed within the castle, where you can admire ancient artifacts, archaeological finds, and an extensive collection of underwater artifacts. Don't forget to climb the towers for stunning views and learn about the castle's fascinating past.
Bodrum Museum of Underwater Archaeology: Unveiling the Maritime History
Located within Bodrum Castle, the Museum of Underwater Archaeology is a must-visit for history enthusiasts. Step into a world of maritime exploration and uncover the secrets of the deep sea. The museum showcases a remarkable collection of artifacts recovered from ancient shipwrecks, including pottery, jewelry, and even a 3,500-year-old shipwreck known as the Uluburun Shipwreck. Marvel at the craftsmanship of ancient civilizations and gain a deeper understanding of Bodrum's maritime heritage.
Bodrum Amphitheater: Step Back in Time
Travel back in time at the Bodrum Amphitheater, an ancient Roman theater that dates back to the 4th century BC. As you step into the amphitheater, imagine the grand performances that took place on its stage centuries ago. Admire the well-preserved architecture and take in the sweeping views of Bodrum and the Aegean Sea. If you visit during the summer months, you may even have the opportunity to attend a live performance or concert in this historic setting.
Gumbet's Surroundings
You can bike, hike or rent a car and drive around the surrounding hills and mountains to find breath-taking views of this lushly-forested area of Turkey. You can hire out a boat to visit the untouched islands nearby, and visit some Turkish villages which have avoided the rampant and unstoppable path of the tourist industry and have maintained all of their charming and traditional style, as well as being much more peaceful than the Gumbet or Bodrum resorts.
Gumbet Windmills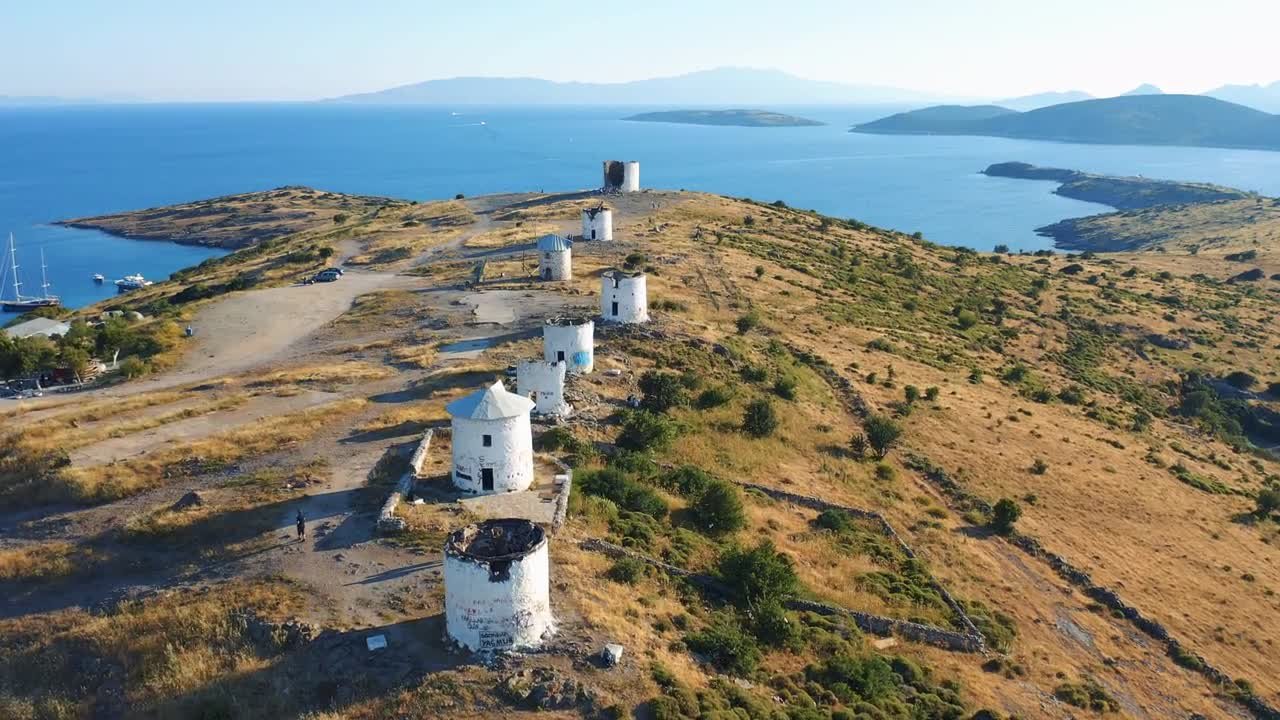 The Windmills of Gumbet offer a captivating glimpse into the region's past and present a unique opportunity to connect with nature and culture. Plan your visit to these enchanting landmarks, and allow yourself to be transported to a bygone era where simplicity reigned, and the wind whispered its melodies. Discover the timeless allure of Gumbet's windmills, and create memories that will forever be etched in your heart.
Bodrum Marina: Stroll Along the Promenade
Take a leisurely stroll along Bodrum Marina and soak up the vibrant atmosphere of this bustling waterfront area. Admire the luxurious yachts that line the marina and browse the boutique shops for unique souvenirs and designer labels. Treat yourself to a delicious meal at one of the waterfront restaurants or enjoy a refreshing drink at a trendy bar. The marina is also a popular spot for evening walks, offering stunning views of the sunset over the Aegean Sea.
Bodrum Town Center: Experience the Vibrant Atmosphere
Venture into Bodrum Town Center, located just a short distance from Gumbet, and immerse yourself in its lively atmosphere. Explore the narrow streets of the old town, known as Bodrum's "bar street," and discover a plethora of bars, restaurants, and clubs. Indulge in delicious Turkish cuisine, sip on a traditional Turkish tea, or dance the night away in one of the vibrant nightclubs. Bodrum Town Center is a hub of entertainment and a must-visit destination for those seeking a lively nightlife scene.
Sightseeing Helicopter Flights over Bodrum Peninsula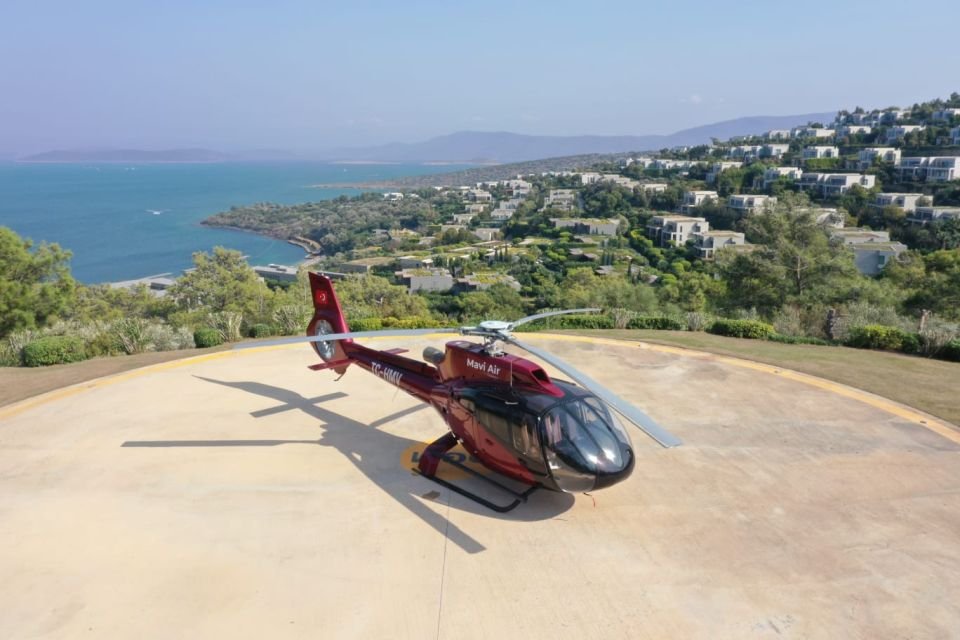 Are you ready to elevate your travel experience to new heights? Take to the skies and embark on a sightseeing helicopter flights over the stunning Bodrum Peninsula. Prepare for a unique and exhilarating adventure that will leave you in awe of the breathtaking beauty that unfolds beneath you.
Day Trips from Gumbet
Day Tour to Ephesus & House of the Virgin Mary
Ephesus is famous for its ancient Greek and Roman port-city, the Library of Celsus, the Temple of Hadrian, the Amphitheatre where St. Paul once preached, and the world known House of the Virgin Mary, that is believed to be the location of Mary's last home. Continue reading…
Day Tour to Cotton Castle Pamukkale
Pamukkale is also called as Cotton Castle, and is famous for its spectacular landscape, Cleopatra's Pool, thermal spring having therapeutic powers and the Amphitheatre, Hieropolis World Heritage Site. Continue reading…
Day Tour to Dalyan (Turtle Beach)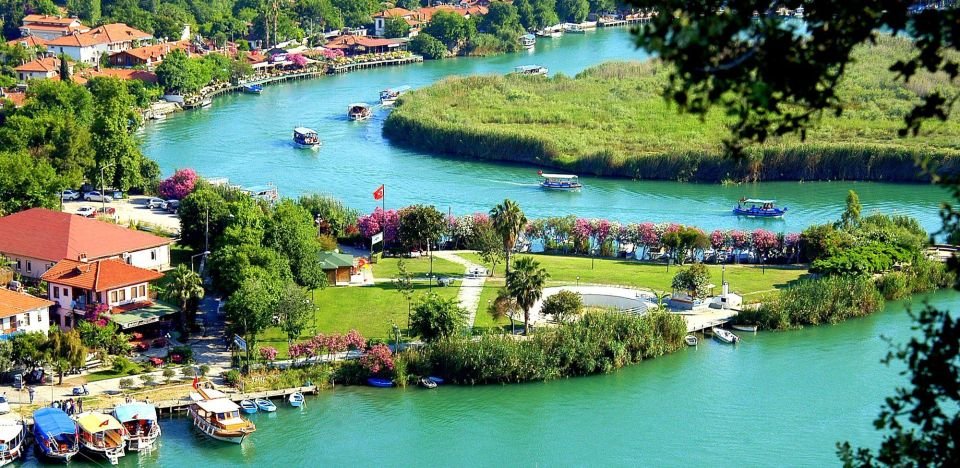 Dalyan is famous for its very beautiful Dalyan river, golden sandy Iztuzu beach, also known as Turtle beach by most of the UK holidaymakers, the sea turtles (Caretta Caretta), the world famous mud bath which give health to both your body and skin, the Lycian rock tombs, and the ancient city of Kaunos. Continue reading…
From Bodrum to Kos Island Day Trip by Boat
Are you seeking a captivating Greek adventure during your stay in Gumbet, Bodrum? Look no further than a day trip to Kos Island from Bodrum, a charming Greek paradise located just a short boat ride away. Join on this unforgettable journey as we explore the highlights, immerse ourselves in history, and experience the beauty of Kos. Prepare to be inspired and intrigued by the allure of this enchanting island.
Conclusion
Gumbet, with its stunning beaches, vibrant nightlife, and rich cultural heritage, offers a wealth of attractions for every traveler. Whether you're seeking relaxation on the beach, exhilarating water sports activities, or an exploration of history and culture, Gumbet has great places to visit and something for everyone. So pack your bags, plan your itinerary, and get ready for an unforgettable holiday in Bodrum's charming town of Gumbet.